Glazed Honey Butter Buttons
by Randi Jordan
(Manchester, Georgia, USA)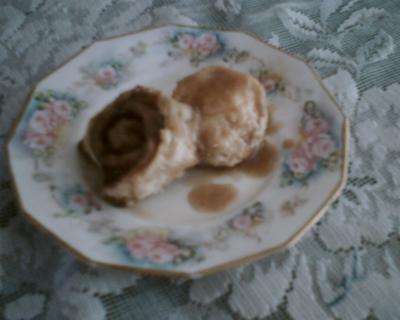 melt in your mouth good!
This is a very delicious little bite that will keep you wanting more. They will be fluffy and delightful. My children help me with mine (they are 4 and under). Very simple and not too many ingredients. Also, if you don't like honey you can use any other kind of glaze, maybe maple syrup and butter or just butter, either way very delicious. I use the one without honey for a meal and the ones with for a dessert. Very versatile.


Ingredients:
2 cups of all purpose flour
3/4 cup whole milk
1 tablespoon baking powder
1/4 teaspoon salt
2 tablespoons sugar
1/2 cup butter
3 ounces cream cheese
Glaze:
half bottle honey or 1/2 cup brown sugar
4 tablespoons butter
Directions:
In a medium bowl put in 2 cups flour, baking powder, and salt. Mix together (there is no reason to sift).
Mix in 1/2 cup cold butter and cold cream cheese until flour resembles course meal.
Add milk and mix until loose and sticky but mixed.
Now here comes the fun part - on a floured surface pour dough out and knead for a minute until not so sticky. Now take a rolling pin and beat the dough a couple of whacks (about 5) then fold and beat more, fold in folds over and over, then beat, then fold, then beat, then fold, then gently roll out dough about 1/2 inch thick.
Next use cutter of your choice. I prefer a small one. I've usually used a Gerber bottle but recently bought biscuit cutters.
Place on buttered (not greased) cookie sheet. It doesn't matter how close together because they will rise very high and beautiful either way.
Bake at 375F degrees (190C) for about 8-10 minutes until golden brown.
In the meantime melt butter and honey. When biscuits are done glaze with honey butter. That's it. I hope you enjoy! They usually don't last long so I don't really get to serve them on a fancy plate.
This recipe can also be made like above and then rolled out. Put brown sugar and cinnamon and dot with butter, then roll up like a jelly roll and cut. Very delicious. Try it, I promise you will like it.