Gingerbread Men Cookies
by Lena
(Maryland, USA)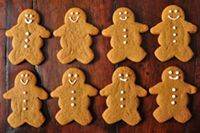 For my gingerbread men I used frosting to decorate.
It's fun to make gingerbread men at Christmas time. Here's an easy recipe for you to try.


3 cups all purpose flour
1/4 teaspoons salt
3/4 teaspoons baking soda
2 teaspoons ground ginger
1 teaspoon ground cinnamon
1/4 teaspoon ground nutmeg
1/4 teaspoon ground gloves
1/2 cup unsalted butter, room temperature
1/2 cup granulated white sugar
1 egg
2/3 cup un-sulphured molasses
In the bowl with your hand or electric mixer with the paddle attachment, beat the butter and sugar until light and fluffy. Add the egg and molasses and beat until well combined. Add the flour mixture beating until incorporated.
Divide the dough in half,and wrap each half in plastic wrap and refrigerate for at least 2 hours.
Preheat oven to 350F (180C) degrees and and place rack in the center of oven. Line 2 baking sheets with parchment paper and set aside.
On a lightly floured surface, roll out the dough to a thickness of about 1/4 inch. Use a gingerbread cutter to cut out the cookies. Put the cookies on baking sheet. Place the cookies about 1 inch apart. Bake for about 8-12 minutes. Let cookies cool for 1 minute.
Make candy body and face or decorate with frosting. EAT!