Fruity Triple Chocolate Layer Cake
by Celia and Gabby
(Barnegat,New Jersey,United States)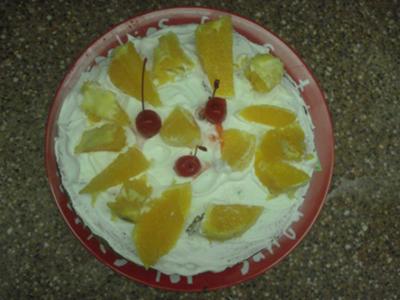 our cake topped with fresh fruit
A lovely light dessert that kids will love (and the fruit is good for them).


Ingredients:
3 eggs
1 1/2 cups of sugar
1 1/4 cup of all-purpose flour
1/2 cup of chocolate cocoa powder
3/4 teaspoon of baking soda
1/2 teaspoon of table salt
1/2 cup of vegetable oil
1 cup of buttermilk
chocolate ice cream
3/4 cup of whipped cream
1/2 cup of fresh fruit
Directions:
1. Heat the oven to 350F (180C) degrees. Grease then flour two 9-inch pans.
2. Put egg whites in a small bowl (save the egg yolks), and stir until foamy. As you stir gradually add 1/2 cup sugar.
3. In a second bowl, stir together flour, 1 cup of the remaining sugar, cocoa powder, baking soda, salt, oil, buttermilk, and egg yolks. Beat until smooth.
4. Add the egg yolks (first bowl) gently into the second bowl.
5. Separate the batter into the two 9-nine inch pans.
6. Bake 18-20 minutes. Cool for 5 minutes.
7. Wrap each layer separately in tin foil. Freeze for several hours.Prepare ice cream layers.
8. Remove the cake and ice cream from freezer.Peel off foil.
9. On a separate dish, place the first layer of cake, then ice cream layer, then another layer of cake.
10. Re-wrap tightly and put back in freezer, if not serving at that time.
11. Frost the top of the cake with whipped cream.
12. Next decorate with fresh fruit.
13. Serve and eat!