Fruit Selection Drink
by Devon Baron and Georgia Flitton
(United Kingdom)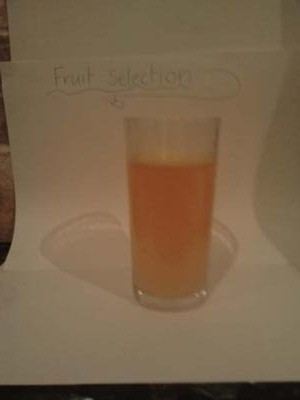 Devon and Georgia's fruit selection
This fruity cold drink is a refreshing treat. Freeze and make a slushy drink for fun.


Ingredients:
mango juice
passion fruit juice
strawberry Actimel or DanActive (probiotic yoghurt-type drink)
tropical juice drink
orange and mango squash
orange squash
pink grapefruit squash
handful of ice
Equipment:
blender
cup
straw
How to make it:
1. Put all the ingredients into the blender.
2. Blend for 2 minutes.
3. Pour into the glasses.
4. ENJOY!
I know it sounds strange but it is LOVELY!
What to do with leftovers:
Freeze in the freezer. After frozen, crush and make a slush!
This is yummmmmmmmy!