Fantasy Fudge
by Franklin Encarnacion
(Brooklyn, NY , USA)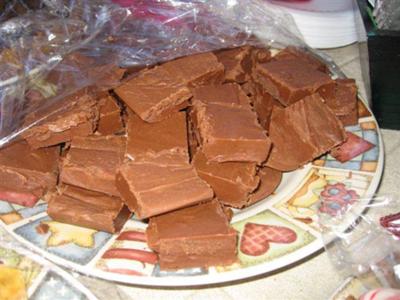 This is an easy fudge recipe that kids can make for Christmas.


3 cups sugar
3/4 cup margarine
2/3 cup evaporated milk
1 12-ounce (340 gram) package semi-sweet chocolate chips
1 7-ounce (198 gram) jar Kraft Marshmallow creme
1 cup chopped nuts
1 teaspoon vanilla extract
Traditional Method:
Combine sugar, margarine and milk in heavy 2 1/2 quart saucepan; bring to full rolling boil, stirring constantly. Continue boiling 5 minutes over medium heat, stirring. Remove from heat, stir in chocolate till melted. Add marshmallow creme, nuts and vanilla; beat till blended. Pour into greased 13 x 9-inch baking pan. Let cool and cut into 1-inch squares.
Microwave Method:
Microwave margarine in 4-quart microwave-safe bowl on HIGH (100%) 1 minute or until melted. Add sugar and milk; mix well. Microwave on HIGH 5 minutes or until mixture begins to boil, stirring after 3 minutes. Mix well; scrape bowl. Continue microwaving on HIGH 5 1/2 minutes; stir after 3 minutes. Stir in chips until melted. Add remaining ingredients; mix well. Pour into greased 13 x 9-inch baking pan. Cool at room temperature; cut into squares.
Makes 3 pounds of fudge.