Eye C U Cake
by Mary Shivers
(Ada, OK, USA)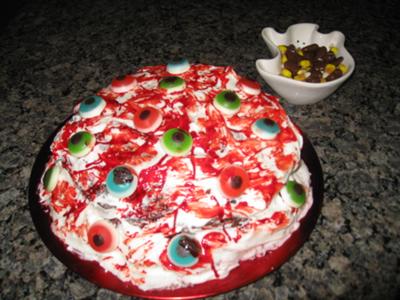 Eye C U Cake

Do you ever have a cake simply fall apart when trying to stack the layers? This is what happened to this cake, so I just kept adding icing to hold it together as best I could, then threw on the red gel and eyeballs to make it even more gross!




This is a fun way to salvage a cake, especially on Halloween. Once the cake layers are cooled, kids of any age can spread the frosting on the cake and add the gel and eyeballs. If you don't have gummy eyes, use gummy worms, plastic bugs, etc. Be creative! A messy, sweet, fun time will be had by all, plus you will have a truly gross-looking but great-tasting "cake" to serve at your Halloween party!

1 (18.25 ounce) box red velvet cake mix
1 1/3 cups water
½ cup vegetable oil
3 eggs
2 (16 ounce) cans cream cheese frosting
1 small tube red gel frosting
1 (20-count) package gummy eyeballs

Heat oven to 350F (1880C) degrees. Spray three 9-inch round cake pans with cooking spray. Set aside. Mix cake mix, water, oil and eggs as directed on cake mix box. Divide batter into pans.

Bake for 20-25 minutes until centers test done with a toothpick. Cool completely.

Place one layer on a cake plate. Spread with ½ can of frosting. Repeat for second layer. Add third layer. Spread second can of frosting on top and sides of cake, tearing out very small chunks of cake and mixing into frosting, allowing cake to crumble somewhat, making it look like a crumbled mound instead of a cake. Freeze cake.

Drizzle red gel on the cake, swirling with finger to make it look like blood. Place gummy eyeballs on the cake. Refrigerate until ready to serve. Serves 12-16.