Easy Dark Chocolate Cakes with White Chocolate Sauce
by Lily Voxuan
(Arlington, TX, USA)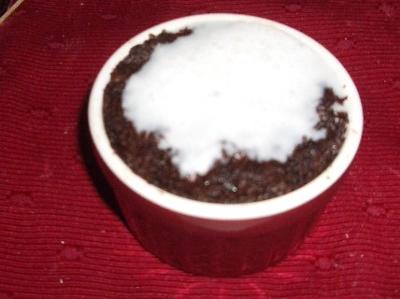 Dark choco ramekins with white choco sauce
These chocolate cakes are served in ramekins so they satisfy a sweet tooth but keep you from eating too much at once.


Chocolate Cake:
1 cup flour
1 cup brown sugar
1/2 cup cocoa powder
1 teaspoon baking powder
1/2 teaspoon salt
1/2 cup plain yogurt
1 teaspoon vanilla extract
2 egg whites
1/2 cup very hot water
White Chocolate Sauce:
1 cup white chocolate chips
1 cup fat-free milk
1/4 teaspoon vanilla
1. Preheat oven to 300 F (150 C) degrees. Lightly spray 8 small ramekins with oil and arrange on a cookie sheet or baking pan with raised edges and keep warm in the oven.
2. Beat egg whites in bowl with electric mixer until small peaks form.
3. Add all other ingredients (hot water last). Mix on high until well blended.
4. Bake 60 minutes or until set. Let cool on a wire rack.
5. Meanwhile, heat all sauce ingredients on low, stirring constantly, until well blended. Remove from heat immediately.
6. Using the back of a spoon, punch a hole into center of cake and fill with 2 Tablespoons of the white sauce.
7. Serve immediately.