Easy Chocolate Mud Cake
by Raine Giderson
(Melbourne, Australia)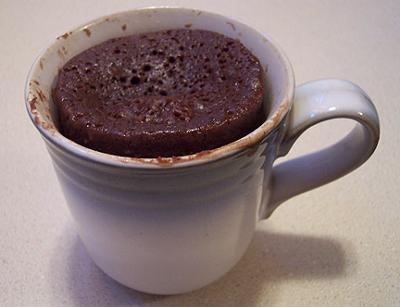 Chocolate Mud Cake in a Mug
This a gorgeous chocolate recipe and I hope you will all make it and like it.


You will need:
4 tablespoons of self raising flour
4 tablespoons of sugar
2 tablespoons of cocoa or Milo
1 egg
3 tablespoons of milk
3 tablespoons of oil
microwave
mug
How to make it:
1. Mix your dry ingredients (cocoa, flour, sugar)
together in a mug, make sure you use self raising flour.
2. Add the wet ingredients (oil, egg, milk) and stir together.
3. Put your mug in the microwave on high for 3 minutes. In the microwave your cake should rise . When finished let the cake cool for a couple of minutes.
4. You can take it out of your mug or just leave it in the mug. You can also serve with ice-cream or any other toppings to finish it off.