Easter Nest Cup Cakes
by SUPERCOOKINTHEKITCHEN
(Australia )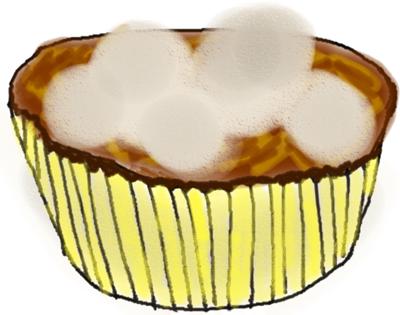 Make these delicious, moist and best choc cup cakes EVER!


Ingredients:
CAKE
2 cups sugar
1 3/4 cups flour
3/4 cup cocoa powder
1 1/2 teaspoon baking powder
1 1/2 teaspoon bicarb soda
1 teaspoon salt
2 eggs (room temperature)
1 cup milk
1/2 cup vegetable oil
2 teaspoons vanilla essence
1 cup boiling water
INSTRUCTIONS:
1. Preheat oven to 180 degrees C (375 F).
2. Prepare muffin pans with 18-24 paper cups
3. in a bowl with an electric mixer, mix together the sugar, flour, cocoa powder, baking powder, bicarb soda and salt.
4. Add the eggs milk oil and vanilla essence and beat for 2 minutes on medium speed. Then stir the boiling water in. The mixture should be runny.
5. Pour the batter into the paper cups equally. Bake for about 10-12 minutes.
6. Let them cool completely before you ice them.
ICING & DECORATIONS
Flake chocolate bar
small white chocolate Cadbury Easter eggs
125g (1 cup) butter softened
2/3 cup cocoa powder
2 1/2 cups icing sugar, sifted
1/3 cup milk
1 teaspoon vanilla essence
INSTRUCTIONS:
1. With an electric mixer beat together the butter and cocoa powder. Adding a little of each at a time, add icing sugar and milk, beating on medium speed until it reaches spreading consistency. Stir in more milk if required. then add the vanilla essence.
2. Chop the Flake bars and put on top in a circle to look like a nest on each cup cake. In the middle place some small white chocolate Easter eggs.
Eat them (Before someone else does)! :)
Makes 18-24.