Deshandra Strawberry Yum Yum Suprise
by Deshandra Carter
(North Carolina)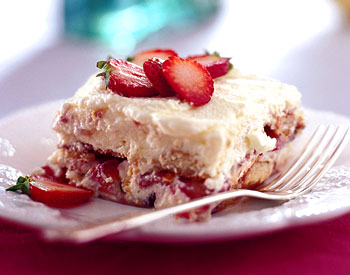 The Best Way To Enjoy A Strawberry Yum Yum
This strawberry dessert is extra yummy!


Graham cracker crust pie
1 can of strawberry topping
1 tablespoon of vanilla extract
1 cup of sugar
2 ounces of cream cheese
12-ounce package of whip cream
In a bowl combine whip cream, cream cheese, vanilla extract and sugar. Mix all until smooth (must use a mixer).
After smooth pour all in Graham cracker crust.
Top with strawberry topping. Put in refrigerator for at least 3 hours.
Number of Servings: 10
Nutritional Information
Servings Per Recipe: 10
Amount Per Serving
Calories: 268.7
Total Fat: 2.7 g
Cholesterol: 3.2 mg
Sodium: 117.5 mg
Total Carbs: 55.7 g
Dietary Fiber: 0.7 g
Protein: 1.4 g