Delicious Chocolate Matzoh
by Jonathan Landis
(Toronto, ON, Canada)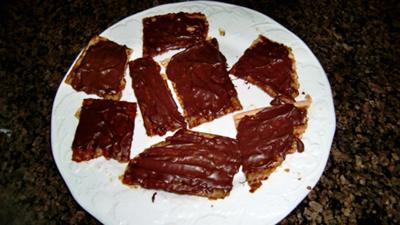 My Homemade Chocolate Matzoh
Tasty passover snack for kids and anyone who loves matzoh and chocolate. Yum!


Ingredients:
3-4 boards matzoh
3/4 cup margarine or butter
1/2 cup brown sugar
1-1/2 cups semi-sweet or dark chocolate chips
1/4 teaspoon kosher salt or sea salt
Preparation:
1. Preheat oven to 350F (180C) degrees. Line a baking sheet with foil. Spray with cooking spray.
2. Spread the matzohs in the pan in a single layer, breaking them to fit if necessary.
3. Heat the margarine and brown sugar in a medium saucepan to a boil. Pour evenly over matzoh, spreading with a knife to make sure the matzoh is well covered.
4. Bake 10-12 minutes. Turn off the oven, and remove the matzoh.
5. Sprinkle the chocolate chips evenly over the matzoh. Return the matzoh to the oven. Let it sit in the warm (turned off) oven for 2 minutes. Remove and spread the chocolate evenly with a knife.
Let the Matzoh sit for 1 minute and be prepared to try the best passover snack you've ever had!
Tip: Tastes best when still warm!
Note: Matzoh is a Jewish cracker/unleavened bread made of white plain flour and water.