Craisin Stuffing Loaf
by Rachel Upton
(Christchurch, New Zealand)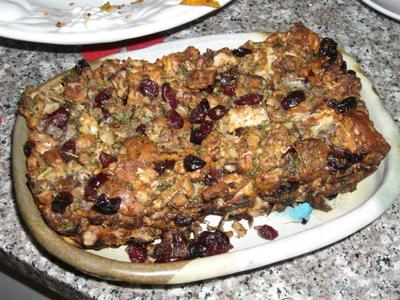 Craisin Stuffing Loaf
This stuffing is really easy to make and perfect with turkey at Thanksgiving and Christmas ham, sliced.


You will need:
1/2 Loaf Bread (thick slice) Cut into cubes
1/2 Cup Craisins
1/2 Cup Walnuts
1 Onion
2 Eggs (beaten)
3 Tablespoons Olive Oil
1/4 Cup Chopped Parsley
Garlic, Oregano, Salt and Pepper


Heat oven to 375F (190C) degrees.


Heat oil, add onion and garlic til soft.


In bowl, put bread cubes, onion and garlic. Add craisins, walnuts, herbs, salt and pepper, then stir in beaten eggs. Mix to coat.


Pack mixture into a loaf tin (loaf cake tin) - grease/oil it first.


Bake for 40 minutes (cover with foil near end if it gets too brown!)


Another stuffing to try is 'bought boxed stuffing' cooked on a flat tray in the oven. It goes crunchy like a flat biscuit.