Coconut Curry Tofu Salad
by Amie Valpone
(New Jersey)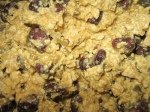 Try this unique and earthy salad for a healthy lunch recipe.


Ingredients:
1 package firm tofu, drained and rinsed
2 tablespoons curry powder
1/4 cup dried cranberries
4 cups fresh baby spinach
1 6-ounce container Greek plain yogurt
1/4 cup shredded purple cabbage
1/4 cup unsweetened coconut flakes
1/4 cup cooked brown rice
1/2 cup red grapes, halved
2 tablespoons white balsamic vinegar
2 tablespoons organic salsa
1/4 cup sunflower seeds
a dash of sea salt and freshly ground white pepper, to taste
Directions:
1. Press firmly on tofu to remove all excess water. Place a heavy object such as a book or a brick atop a clean paper towel and the block of tofu. Allow to sit for 30 minutes. Remove tofu and slice into 1 inch cubes.
2. In a large bowl, combine all ingredients. Gently toss to combine.
3. Serve chilled.
4. Enjoy!