Coco Surprise
by Lucy & Tyra
(United Kingdom)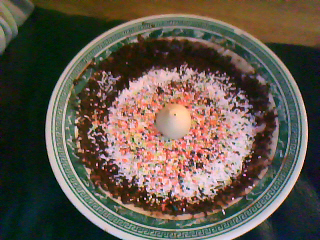 Lucy & Tyra's Colorful Coco Surprise
Try this colorful and decorative chocolate dessert using ice cream bars and Coco Pops.


YOU WILL NEED:
2 Vanilla Ice Cream Bars
2 Chocolate After Eight Bars
Tablespoon of Milk
Cup Full Of Coco Pops Cereal
Microwave
Selection Of Sprinkles
1 White Chocolate
Bowl
1. First get two vanilla ice cream bars and put them into a neatly decorated bowl.
2. Start mashing the ice creams together in the bowl and then add 2 chocolate After Eights while mixing.
3. After that, you add a tablespoon of milk. Then mix until you get a nice creamy paste.
4. Before you put the mixture in the microwave, you will need to add about a cup full of Coco Pops. Then mix it all together until the Coco Pops are soft and hidden under the velvet mixture.
5. Next, you put the mixture into a microwave for 2 minutes or until its hot and creamy.
6. Take the the mixture out of the microwave and get a selection of sprinkles and put chocolate on the outside and white sprinkles on the inside and in the middle put multi-colored sprinkles.
7. To finish it off, place a white coated chocolate in the middle of your dessert to make it look perfect.
8. Now your lovely pudding is ready to serve!