Citrus Spiced Sweet Potato Mini Muffins
by Jenn Tidwell
(Fair Oaks, CA, United States)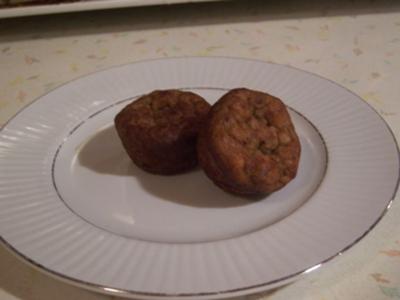 Citrus Spiced Sweet Potato Mini Muffins
This recipe originated being served simply as mashed sweet potatoes and was a favorite of our infant Kaia. As the years have passed and she has grown into toddler-hood the dish grew as well into sweet potato mini muffins. These too are a favorite of hers and can easily be packed away in her lunch for pre-school and is packed with nutrients and flavor!


Makes: 18-20 mini muffins
Prep Time: 20 minutes
Cook Time: 10 minutes
1 cup flour
1 teaspoon baking powder
¼ teaspoon cinnamon
¼ teaspoon ground nutmeg
pinch salt
½ cup brown sugar
¼ cup vegetable oil
1 egg, beaten
1 teaspoon orange zest
2 cup mashed sweet potatoes (not yams)
Preheat oven to 350F (180C) degrees.
In a medium bowl combine, flour, baking powder, cinnamon, nutmeg and a pinch of salt; sift together using a fork.
In a separate bowl blend together brown sugar, vegetable oil, egg, orange zest and mashed sweet potato until well combined.
Pour the wet ingredients into the dry bowl and using a wooden spoon stir just until combined. The batter should be lumpy.
Using melon ball or spoon, scoop batter into lightly greased mini muffin tins about ¾ full.
Bake 8 to 10 minutes, just until golden and toothpick comes out clean. If you press on the muffin top it should pop right back up.
Using a knife loosen muffins to release from pan and serve or store in an air tight container up to 2 or 3 days.