Cinnamon-Ginger Lickety Breadlits
by Elise Finney
(Bangkok, Thailand)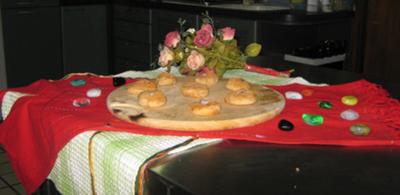 Invented/Produced by 12 year old Elise Finney
This original dish has a very unique and festive flavor. The first bite should put you in a joyful mood, ready to celebrate. For an even more traditional flavor, replace the water with apple cider! It is a combination between a crumbly cookie and flavored bread.


You will need:
3-5 dry ginger sticks
Ground cinnamon
Cinnamon flakes
1/4 cup of sugar
2 cups cookie flour
1 egg
Water or apple cider
Oven
Baking tray
Oil
1-2 teaspoons vanilla essence(optional)
Peanut butter (optional)
Cashew nuts (optional)
How to make:
1. Pour the 2 cups of flour, sugar, (peanut butter) into a bowl and add half a cup of water or cider at a time. Mix until a sticky ball and knead with hands.
2. Add one beaten egg and vanilla essence to the mixture and stir well.
3. Crush the ginger sticks and dump them in. Stir at a brisk pace, allowing the ginger to blend in.
4. Add some ground cinnamon to the bake to create a sharp and festive taste.
5. Mix well for the final time and separate the cookies into 12-18 little blobs.
6. Wax the baking tray generously with oil and place the blobs a few inches apart from each other. Press cashew nuts neatly on cookie surface.
7. Turn on the oven and allow to be heated 5 minutes at 200°C (400°F) before you place the tray inside.
8. Once cookies are inside the oven, gradually adjust the temperature cooler when cookies start to crisp.
9. Remove when cookies are crisp at the bottom and golden-brown.
10. Serve!