Cinnamon Christmas Ornaments
by Heather Boling
(Paw Paw, MI, USA)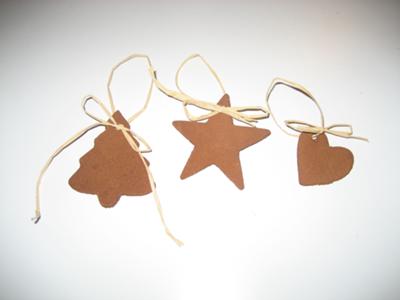 Easy ornaments for your Christmas tree tied with raffie bows
Kids LOOOOOVE making these easy ornaments. We have made them for years and years from generation to generation in our family!!! They also make a great gift for family, friends, teachers and bus drivers!!


You will need:
1 cup cinnamon
1 cup applesauce
1 tablespoon Elmer's (school) glue
Mix the 3 ingredients together until mixture becomes doughy. Roll out on a lightly cinnamoned surface to 1/4 inch thick.
Cut Christmas shapes out of dough with cookie cutters. Immediately make a hole at the top of the ornament. Let ornaments dry for 12 hours.
Loop ribbon, raffia, or gold cord through the hole in the top of the ornament and tie into a bow. Hang on the Christmas tree and enjoy the scent of cinnamon for years to come!!!!
Note:
This recipe is not to be eaten. These Christmas tree ornaments are for decoration only.