Chow Mein Noodle Cookies
by Dawn
(Warren, PA, USA)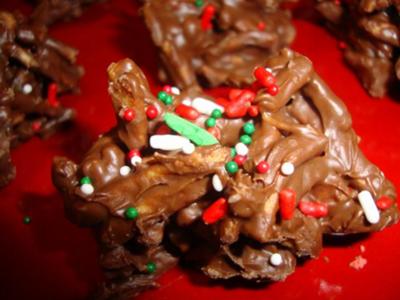 chocolate and butterscotch chow mein noodle no-bake cookies
My mom always made these for us as kids, and to this day it is still my all-time favorite cookie! My daughter, Kamryn, is 7 and this is now her favorite cookie as well. The recipe is so simple, we can whip out a batch anytime we get a craving.


(1) 12 ounce bag chocolate chips
(1) 12 ounce bag butterscotch chips
(1) 5 ounce can chow mein noodles
Sprinkles (optional)
In a large saucepan, combine chocolate chips and butterscotch chips. Melt, stirring constantly over low heat.
Remove from heat and stir in chow mein noodles. Mix gently to coat each noodle.
Using a tablespoon, drop onto wax paper and apply sprinkles. Allow to cool completely.
Yields 3-1/2 dozen.