Chocolate-Crunch Cheesecake
by Autumn Brown
(Bridgeton, New Jersey, USA)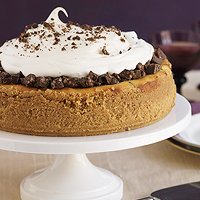 Autumn's chocolate cheesecake with a crunch
This recipe makes 16 servings and preparation time is 25 minutes. Refrigerate overnight. This is a chocolate lover's delight.


Ingredients:
1 box(10 ounces)shortbread cookies
4 tablespoons butter, melted
3 packages(8 ounces each)reduced-fat cream cheese, softened
1 cup plus 1 tablespoon sugar
2 tablespoons cornstarch
4 eggs
1 cup sour cream
2 tablespoons coffee liqueur (such as Kahlua)
1 teaspoon vanilla extract
1 large Nestle Crunch candy bar(5 ounces), chopped
1 cup heavy cream
Instructions:
1. Heat oven to 350F (180C) degrees.
2. Mix together the crumbs and butter. Press over bottom and partially up side of a 9-inch spring-form pan. Refrigerate while making filling.
3. Beat cream cheese for 1 minute. Add 1 cup of sugar and the cornstarch; beat for 3 minutes. Beat eggs, one at a time. Add sour cream, liqueur and vanilla; beat until smooth. Fold in chopped candy bar. Pour into crust.
4. Bake at 350F degrees for 90 minutes, until just set. Run a knife around the edge of cake to separate from pan. Cool in pan on rack. Cover; refrigerate overnight.
5. Remove side of pan. Whip cream and 1 tablespoon sugar stiff peaks. Spread onto cake; garnish with candy bar, if desired.