Chocolate Pizza
by Stefanie Nowak
(Niagara Falls, NY, USA)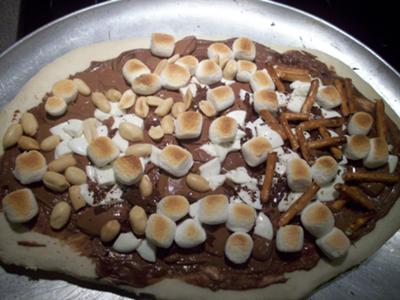 Chocolate Pizza with Nutella, dark, milk and white chocolates, toasted marshmallows, pretzels and peanuts. Yum!
For this contest, since it is supposed to encourage children to cook with their parents, I figured I would share this amazing recipe with everyone. I tweaked it from my fiance's mother's pizza dough recipe to make it into a dessert for the sweet teeth of our families. It is as simple as it gets, and extremely versatile to any taste bud because the options are limitless! Let's dive in!


Pizza Crust (Yield: 2 pizza crusts or one really large, yummy pizza crust)
Ingredients:
2 packages of active dry yeast (or 2 tablespoons)
1 1/2 cups warm water
1 1/2 cup flour
1 1/2 teaspoons salt
3 tablespoons brown sugar, firmly packed
1 1/2 tablespoons oil
Directions:
Dissolve the active dry yeast with the warm water in the measuring cup. Let sit while you put the rest of the ingredients together in mixing bowl. Add yeast and water to remaining ingredients.
Using your stand mixer or favorite hand mixer, mix all ingredients together on low for 1 1/2 minutes. Switch mixer to high and mix for 3 minutes.
Add an additional 2 1/2 cups flour. Incorporate.
Turn dough out onto lightly floured board and knead for 8-10 minutes (with stand mixer you can let the mixer do most of the work for you, and for the rest of us... our hands are our best tools!).
When dough is smooth, place in a bowl that has been sprayed with cooking spray and lightly floured. Top bowl with a damp towel and let dough rise until doubled. This usually takes about an hour or so.
When dough is doubled, divide in half (or keep whole and use a larger pizza pan). Roll out to about a 1/2 inch thick. Create a crust with your fingertips and poke tiny holes with a fork in the middle (to prevent the dough from getting all puffy while baking).
Bake
dough on any pan you'd like, in any shape you made, in an 400F (200C) degree oven for about 12 minutes, or until edges are just browning.
This is the fun part!!
For the toppings...
I use a hazelnut-chocolate spread, such as Nutella for the "sauce." I use about 3 heaping tablespoons per pizza (about 6 total if dough was not divided). If Nutella is not in the preferred taste buds of the children, or parents, a marshmallow spread or peanut butter would work wonderfully as well.
While dough is baking, I chop up all kinds of chocolate, milk, dark, white, and chili chocolate.
At my house, we triple the dough recipe and allow everyone to have their own pizza to create, this gets the kids very excited. The toppings are limitless.
I have made this with pretzel sticks as part of the toppings, strawberries, cherries, peanuts, and marshmallows. Using your favorite candy bars (that contain loads of chocolate of course!) would be a fun idea as well by chopping them into bite-size pieces and putting them on top.
After putting the desired toppings on top of the pizza crust, place back into the oven for a few minutes to let everything get melted together. When using marshmallows, I like to turn on the broiler and let them toast up like they would on a fire!
Note: when using fruit as a topping (such as strawberries), add them after the second trip into the oven to melt everything together otherwise your fruit gets too hot and mushy.
The best part:
SLICE THE PIZZA UP AND ENJOY! CAREFUL, IT WILL BE VERY HOT.
This is one of my favorite recipes for dessert and, for a small family, dividing the dough in half allows for a dinner and a dessert from the same batch! I hope you all will enjoy this recipe as much as I do.