Chocolate Peppermint Pound Cake Pudding
by Roxanne
(California)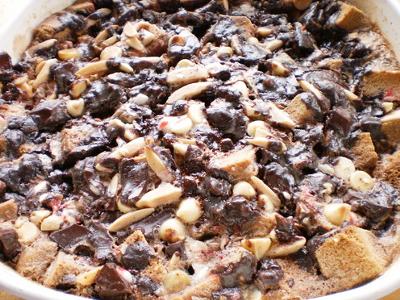 Comfort food at its best!
We have served this recipe with ice cream, whipped cream or just poured cream over top. This is a quick and easy delicious dessert that kids of all ages can help make. It can be prepared ahead and rewarmed.


Ingredients:
4 cups cubed pound cake
1/2 cup semi-sweet chocolate chips
1/2 cup white chocolate chips
1/2 cup crushed peppermint candy
1/2 cup slivered almonds
1/2 cup prepared chocolate sauce, at room temperature
3 cups milk
3 large eggs
3 ounces cream cheese, softened
3 tablespoons cocoa powder
Cooking Instructions:
Arrange the pound cake in a buttered 9 inch square baking pan.
In a small bowl combine the chocolate chips, candy and nuts. Sprinkle over the cake cubes. Drizzle the chocolate sauce over top.
In a blender container blend until smooth the milk, eggs, cream cheese and cocoa powder. Pour over the cake mixture. Let stand 15 minutes at room temperature.
Bake at 325F (160C) degrees for 1 hour or until set. Let stand 10 minutes before serving.
Serves 8
The Story Behind This Recipe:
This recipe developed years ago when my son was growing up. After the holidays one year I had leftover pound cake, broken leftover candy canes and some chocolate sauce left over.
One of my son's favorite desserts has always been bread pudding so that gave me the idea of developing a chocolate mint version. My pantry is always stocked with chocolate and white chocolate chips and cocoa powder; milk, eggs, and cream cheese are refrigerator staples and I keep nuts on hand in the freezer.
It was so much fun to watch my son crush the candy with a mallet, mix together the chips, candy and nuts, measure and blend the liquid ingredients and then assemble the dessert before I took charge of the baking.