Chocolate No Bake Oatmeal Cookies
by Madison Smith
(Mattoon, IL, USA)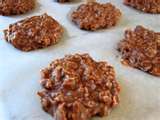 These no-bake cookies are awesome.
I got the idea for this chocolate recipe from my grandmother. I use it at parties and just for cooking fun.


2 cups of sugar
1/2 cup of cocoa
1 stick of butter
1/2 cup of milk
1 teaspoon vanilla
3 cups of quick cook oatmeal
1/2 cup of peanut butter
Combine sugar, cocoa, butter and milk in a saucepan.
On medium heat, bring to a boil for one full minute. Remove from heat. Stir in peanut butter(optional), vanilla and oatmeal.
Drop by spoonful onto wax paper. Let cool for 30 minutes to an hour.