Chocolate Crunch Mini Ice Cream Cups
by Melissa Altman-Traub
(Jamison, PA, USA)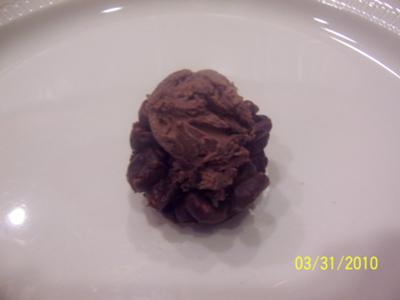 Chocolate Crunch Mini Ice Cream Cups
I invented this recipe to combine several of my 3 year old daughter's favorite snacks into a delicious dessert which is just the right size for a toddler. I used a melon scoop to scoop just enough ice cream into the ice cream cup. Turkey Hill's Light Chocolate Peanut Butter Moose Tracks is pictured here, which continues the chocolate peanut butter flavor, but many flavors of ice cream would work well.


Ingredients
1/2 cup chocolate chips, semi-sweet
2 Tablespoons creamy peanut butter
1 cup Cheerios
3/4 cup chocolate peanut butter ice cream
Instructions
1. Melt the chocolate chips in the microwave, about 45 - 75 seconds, stirring frequently until smooth.
2. Stir in the peanut butter, and then the Cheerios.
3. Drop by heaping teaspoons into 12 mini-muffin tins. Using the teaspoon, press gently into the sides of the tins. Chill in the refrigerator for 15 - 20 minutes.
4. Remove from the tins using a butter knife, by running around the edges. Top each ice cream cup with a small scoop of ice cream.