Cheesy Tuna Bake
by Mashawi Mirza
(United Kingdom )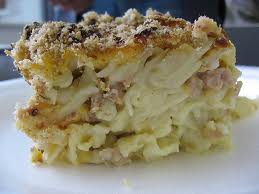 Enjoy your tuna dish!
This tuna bake recipe serves 2 people.


Ingredients:
2 small cans of tuna
3 packs of melted cheese (any kind of liquid or melted cheese)
half pack of green peas
half box of mushrooms
cheese essence
1 bunch of mint
salt
Method:
First, take water in a big bowl, then empty half pack of peas in it for it to be softened for ten minutes. Then empty the two packs of appetizing tuna in a frying pan and let it fry with about a half tablespoon of salt.
Second, after rinsing the mushrooms put them in the frying pan where the tuna was being fried, then take out the peas when boiled and put them in the frying pan where the tuna and mushroom were! For extra taste add some cheese essence also. Then cover the pan for 5 minutess.
Third, take a glass dish, open the liquid cheese and empty it into the dish very neatly. It should be like a clear layer of melted cheese. When the mixture of tuna is fried take it out and place it on top of the 1st layer of cheese. For more creativity and neatness be very careful when emptying the tuna mixture on top of the cheese layer. This should be the 2nd layer of the dish.
Finally, again take the cheese and very carefully place it on top of the tune mixture layer which is the second layer. This then will become the third and the final layer of the dish. Place one piece of mint on top in the center of the layer on top. Put the dish in the oven to heat it and for the dish to become crispy.