Cheesy Pumpkin Patch
by Suzanne Ambrose
(Jupiter, FL, USA)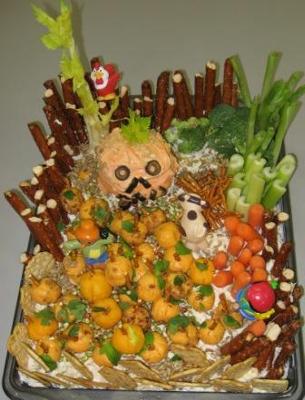 The little chefs amazing cheesy pumpkin patch
CHEESY PUMPKIN PATCH


The inspiration for this recipe was a fussy friend that does not like sweets but whose birthday falls on Halloween. Hmmmm, what sort of "cake" to make?
This super cute savory treat was so easy for me to make that Miss Kathi's crazy 3-5 year old Montessori class made it this year for their Halloween party. They had so much fun and what a sense of pride as they saw the patch grow under their nurturing hands. All-in-all it took about one hour. Delicious, nutritious and splendicious!!!!!
Ingredients:
3 blocks cream cheese (8 ounces each)
1 can crushed pineapple (20 ounces)
2 teaspoons garlic salt
2 cups roasted sunflower seeds
1 bunch green onions
6 cups grated cheddar cheese
1 cup roasted crushed peanuts
1 cup classic style stick pretzels
20-30 parsley leaves
Small can sliced black olives
1 cup baby carrots
1 cup celery sticks
1 cup broccoli florets
1 cup bean sprouts
10 ounce bag pretzel rods
1 box of crackers
1. MAKING THE "DIRT": Make "dirt" base by combining 16 ounce cream cheese, drained pineapple, 1 teaspoon garlic salt and 1 cup sunflower seeds. Cut green onions in half and finely chop the top half. Combine chopped greens into "dirt". Spread on a large baking sheet. Sprinkle bean sprouts
on one side of the "dirt" for the pumpkin patch and remaining sunflower seeds on the other side for the vegetable garden.
2. MAKING THE PUMPKINS: Beat together in mixer 8 ounces cream cheese, grated cheddar and 1 teaspoon garlic salt until dense but fully combined. Roll cheese into 20-30 teaspoon sized balls and score sides downward with a toothpick. Break classic style stick pretzels in half and stick in the top as a stalk. Dip the bottom in crushed nuts and add a parsley leaf to the top. Roll the remaining cheese into a "great pumpkin, score the sides and use olives to make a jack-o-lantern face. Make the stalk with half a large pretzel rod or celery leaf.
3. VEGETABLE PATCH: Plant the garden by inserting carrots, celery, broccoli, and bottom halves of green onion into the "dirt" along one side of the patch.
4. COMPLETING THE PATCH: Use pretzel rods broken in half and crackers to make a fence around the patch by inserting into the dirt around the outer edge of the pan. Use remaining smaller stick pretzels to make a haystack near the back. Place the great pumpkin near the back and the small pumpkins in the foreground. May decorate further with farm toys (we used little people scarecrow, cow and farmer).