Cheese..Urry Scones
by Rachel Upton
(Christchurch, New Zealand)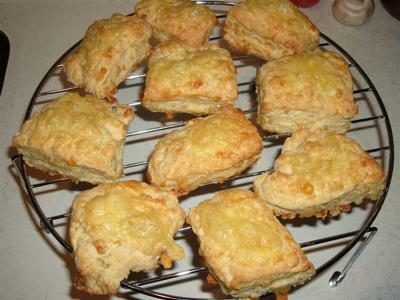 Here is a unique and yummy recipe for cheesy curry scones!


8 ounces (1 1/3 cups) plain flour
1 teaspoon baking powder
1/2 teaspoon curry powder
2 ounces (1/2 stick) butter
3 ounces (1/4 cup) grated cheddar cheese
1 small carton of plain yogurt
1 egg, beaten (for brushing the top)
a dash of milk
Preheat oven to 220C (425F) degrees.
Sieve flour, curry powder and baking powder together.
Rub in butter (should look like fine breadcrumbs).
Add grated cheese.
Stir in yogurt and a dash of milk, and mix (should be soft but not sticky).
Put on floured board, roll out to 3/4 inch thick.
Cut into rounds and place on greased tray.
Brush with egg and sprinkle grated cheese.
Bake 12 minutes.
Note: If you don't like curry you can add mustard powder instead.