Caitlin's Lemon Lickin' Chicken
by Cailtin Kendle
(Norwich, England)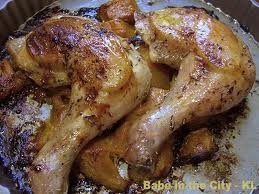 Tart, fresh chicken marinated and roasted over carrots. This tangy dish is simple, tasty and so easy to prepare. The lemon and tarragon adds taste to both the chicken and the carrots.


Ingredients
1 kilo (2 1/4 pounds) chicken thighs, skinned
1/2 cup fresh lemon peel, sliced
3 teaspoons chopped fresh tarragon
2 sliced eschallots
1/4 teaspoon sea salt
fresh ground black pepper to taste
2 tablespoons white wine vinegar
1/2 cup fresh lemon juice
4 medium carrots, cleaned but whole
1 tablespoon butter
1/2 teaspoon smoked Hungarian paprika
Method
Place chicken in a glass dish. Mix lemon juice, vinegar, peel, tarragon and eschallots and pour over chicken. Cover and marinate in refrigerator several hours, turning occasionally.
Set oven at 325 degrees F (160 degrees C).
Rub a nonreactive baking dish with butter and place the whole carrots on the bottom. Place the chicken thighs on top of the carrots and sprinkle with salt, pepper and paprika. Pour marinade over, cover and bake for 35 minutes. Uncover and continue to bake 30 minutes more or until done.
Serving size, two thighs with carrot and sauce.