Banana Cream Cheese Bites
by Tabitha Phillips
(Gainesville, Ga, USA)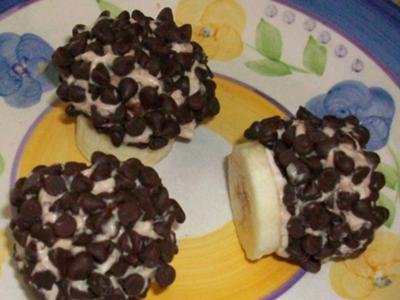 Banana Cream Cheese Bites
You just can't go wrong with banana, cream cheese, and chocolate! Whenever I get around to making these yummy bites, I am lucky to get a single one, since my brothers and parents tend to grab them out of the freezer even before they're completely frozen!


Ingredients:
1 8-ounce package of cream cheese, room temperature
1 Tablespoons sour cream
2 teaspoons cocoa powder
1 Tablespoon sugar
1 cup crushed Keebler Fudge Stripes cookies
2 bananas, sliced ½ inch thick
1 cup mini chocolate chips
Directions:
Combine cream cheese, sour cream, cocoa powder, sugar, and crushed cookies. Mix well.
Place chocolate chips in a small bowl. Place 1 Tablespoon-size dollops of cream cheese mixture onto chocolate chips and roll around until it forms a ball with chocolate chips covering the whole outside. Continue until most of the mixture is in balls. Leave some for the top of the bananas.
Take a small amount (1/2 teaspoon) of cream cheese mixture and spread it on the top of each piece of banana, then take each cream cheese ball with chocolate chips on it and push it on top of the banana so it sticks.
Cover and freeze for at least 1 hour and enjoy.