Balsamic Duck Breast
by Ambre
(U.S.A.)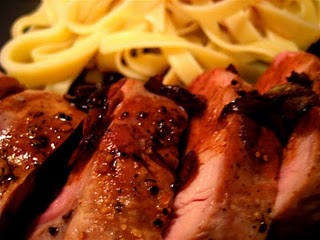 Duck breast with sweet balsammic sauce and linguini
This recipe has few ingredients but I find this combination of ingredients to be quite yummy. It contains duck breasts, one of my and my father's favorite piece of meat, shallots, balsamic vinegar,and honey. I usually prepared duck breasts merely cooked by itself in the pan but I wanted to change it up. I had a vague memory that duck breasts went well with a sort of sweet balsamic sauce so I just went for it. Afterwords I thought that it would go well with fresh linguine.


Balsamic Duck Breast
Ingredients:
2 duck breasts (one per person)
3 shallots
1oo ml balsamic vinegar
a good tablespoon of honey
Directions:
Cut the skin of the breasts in a crisscross fashion and place them in hot pan for about 10 minutes on the skin side and then for about 3 minutes on the other side, after having taken out the grease. Take out the breasts and keep them somewhere warm. Add the chopped shallots to the pan and brown them.
Then add the balsamic vinegar and let it simmer a bit to get all the vinegar and duck juice incorporated. Finally just add the dollop of honey and bring the sauce to a boil and voilà! Serve the duck sliced and topped with the sauce accompanied with the linguine.
The quantities above for the sauce are for about two duck breasts.