Baked Stuffed Eggs
by Mahrukh Hamid
(Pakistan, Rawalpindi)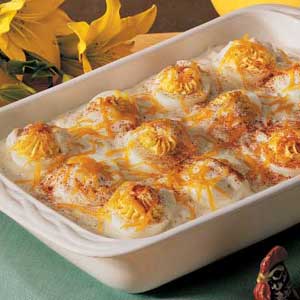 This creamy egg casserole will melt in your mouth.


Ingredients:
8 boiled eggs
3 tablespoons of cream
½ teaspoon of salt
For the Sauce:
½ cup of chopped onion
2 tablespoons of butter
10 ¾ ounce cream of mushroom condensed soup
1 cup of sour cream
½ cup of grated cheddar cheese
½ teaspoon of paprika
Slice eggs in half from tip to bottom. Remove the yolks and set whites aside.
In a bowl, crush the yolks with a fork. Add the sour cream and salt to the yolks and mix well.
Fill the egg whites with this mixture and set aside.
In a saucepan, sauté the onion in butter until tender. Add the soup and sour cream ensuring you combine the mixture well.
Pour half of this mixture into an 11-inch baking pan. Arrange stuffed eggs over the sauce and cover with remaining sauce.
Sprinkle with grated cheese and paprika. Cover with cling-film and refrigerate overnight.
Remove from the refrigerator 30 min prior to baking.
Bake uncovered at 350°F (175°C) for 25-30 minutes.