Baked Pumpkin Doughnuts with Maple Cinnamon Glaze
by Cateline Quinn
(Houston, TX, USA)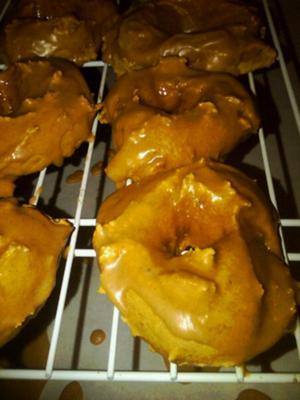 Pumpkin Doughnuts
These low fat doughnuts will melt in your mouth. Serve them for Halloween. They won't last long!


1 cup Canned Pumpkin
3 large Egg White
1/3 cup No Sugar Added Apple Sauce
1/2 cup Brown Sugar
1 1/4 cups All-purpose Flour
1/4 cup Granular Sugar
1 teaspoon Baking Powder
1/2 teaspoon Baking Soda
1 1/2 teaspoon Cinnamon
2 teaspoon Organic Vanilla Extract
1 teaspoon Nutmeg, Freshly Ground
1 cup Confectioner's Sugar
2 tablespoons Sugar Free Maple Flavor Low Calorie Syrup
1/2 tablespoon Cloves, Ground
1 1/4 cups Whole Wheat Flour
Preheat oven to 425F (220C) degrees and grease baking sheet.
Beat pumpkin, 1 teaspoon vanilla, egg whites, oil and brown sugar in large bowl. Add flours, baking powder, baking soda, nutmeg and cinnamon. Mix until well blended. Let stand for 5 minutes to let dough rise.
Scoop out heaping tablespoons and place on baking sheet equally spread apart. Take a buttered knife and finger to form doughnut holes in the center of each. Smooth edges of dough into a round doughnut as much as possible. It will be difficult as the dough is sticky.
Place in oven for 7-8 minutes at 425F (220C) degrees.
GLAZE:
In a bowl add confectioner's sugar and vanilla and slowly whisk in maple syrup until a creamy glaze is formed. Add cinnamon as desired.
Lay out a sheet of parchment paper under a wire rack. Dip each baked doughnut (after they have cooled) into the glaze. Allow extra glaze to drip off into the bowl then place on to wire rack and allow excess to drip off and for glaze to harden.
If you want them to look a little more festive you can add a few Halloween sprinkles or some edible orange glitter! Enjoy!