Almond Nut Cookies
by Pat Howard
(Houston, TX, US)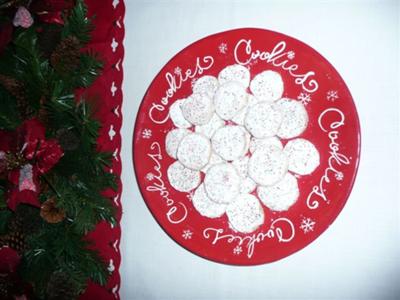 Almond Nut Cookies
Growing up in the '30s & '40s our favorite Christmas cookie was Grandmother's "Crescent Cookie". She rolled out the dough and used a crescent shaped cookie cutter. I have changed and simplified the recipe. Now my cookies are my children's and grandchildren's favorite cookie.


ALMOND NUT COOKIES
1 10-ounce bag of slivered almonds (about 2 1/2 cups)
1 cup sugar
1 pound butter, softened
4 1/3 cups flour
Powdered sugar
Spread almonds out in a shallow pan and roast in a 300F (150C) degree oven about 20 minutes or until they begin to brown. Let cool.
Mix the nuts with the sugar and put one half at a time in a food processor and grind until fine. Place in a large mixing bowl with soft butter and mix well. Add flour one cup at a time and mix well. Use a heavy duty mixer or add last 2 cups of flour by hand.
Divide dough into 3 or 4 parts. Make each part into a long round log shape with a 2 inch diameter and roll up in aluminum foil. Refrigerate 1/2 hour or up to a week until you are ready to bake.
Slice into 1/8 inch round cookies. Place on ungreased cookie sheet and bake in a 350F (180C) degree oven for 15 to 20 minutes until coolies just begin to brown. Remove from oven and roll each cookie in powdered sugar. (For cookie contest add some red and green sugar sprinkles.) Cool. Store in tight container.
Makes about 5 dozen cookies.
*Note: The cookies slice easier if the rolls of dough are taken out of the refrigerator about 15 or 20 minutes before slicing. Kids love to help with the slicing and rolling in the sugar when they come out of the oven.
See included picture above. The cookies may not win a beauty contest but they win a taste test hands down!