RECIPES EXPRESS
November 23, 2010
Issue #030
1. Turkey Tips for a Great Thanksgiving
2. Recipe Contest Winners: Halloween
3. Two New Recipe Contests: Thanksgiving and Christmas Cookies
1. Happy Thanksgiving!
It's an exciting time of the year when Americans celebrate Thanksgiving. It's a time to be together with family and to be thankful for all we have.
For the rest of the world, it's the lead up to the holiday season which also brings us together around a meal with our loved ones.
I've put together some "Turkey Tips" to help you prepare your turkey and get ready for the festivities.


Click here for tips for cooking turkey.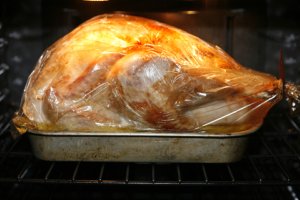 2. Check out the Halloween Contest Winners.
The Halloween recipes entered in the Halloween Recipe Contest this year were fabulous! I increased the prizes and offered a small prize for the two honorable mention recipes.
I loved the creativity of all of the recipes. There were some really fantastic Halloween cupcakes and some yummy pumpkin recipes too! It was exciting to have kids as young as 6 enter and win a prize and to have school cooking projects showcased.
Check out the Halloween recipe winners.

3. Two NEW Recipe Contests.
While you're preparing your Thanksgiving meal, why not take a photo and enter your family recipe in the Thanksgiving Recipe Contest. Entries are due December 1 and you could win a $50 gift card to shop online at amazon.com this holiday season.

Or if you have a yummy Christmas cookie recipe, I hope you'll enter it in the Christmas Cookie Recipe Contest. The deadline for this contest is December 17 - and there are gift card prizes of $200 to be won. So let's get baking!

Happy Kid Cooking!
Clarissa the Mom Chef
Easy Kids Recipes

Thanksgiving recipes.
Keep up to date - follow Easy Kids Recipes on Facebook.
Easy Kids Recipes home page.